Client Testimonials

There are not enough positive words in the world to describe how highly I regard the services of Mike McGinnis. I came to Mike with some very complicated tax problems. Prior to finding Mike, I was prepared to close my business. Not only did Mike reassure me this would not be necessary, he negotiated an extremely manageable solution. After about 6 months, he completely cleared up 7 years of complicated tax return problems with better results than I had could ever have imagined. Mike consistently goes above and beyond the call of duty. He truly thinks and cares about my business and my own personal taxes and always suggests ways I can be more efficient. He's creative and positive and no task is too challenging for him. From my point of view, he charged too little for what I got in return…But don't tell him I said so. He's quick to respond and does what he says he will do in record time.

I've been in business for over 20 years and I have never encountered a more professional and dedicated service provider. I can't wait to do my taxes now! I thought I would never say that. The best part of all the tax problems I had was working with Mike. In fact, finding him was worth all of it. I am so confident of his services, I would highly recommend him to everyone I know and offer to pay their bill should they not be completely satisfied ...

Gina Orii, President
Pacific Road, U.S.A.
---

I have the unique privilege to share with you my perspective into the character of Michael E. McGinnis, CPA. Throughout the course of compiling and preparing my taxes for the past several years, I have found Mike to be a competent and skilled certified public accountant who provides a cost effective method of preparing both my business tax returns and my personal tax returns.

In addition, to tax preparation, Mike makes sure that his clients are comfortable and happy. His See's candy bowl is always full to ensure comfort. If you are interested in a spirited discussion on the latest political folly, talk to Mike. If you lean to the Right, don't have a sucker in your mouth during that discussion! His discussions entertain his clients and create a unique atmosphere that contradicts the stereotypical accountant.

I have recommended Mike's services to my own clients. I would recommend him to anyone who needs tax preparation or accounting services.

Monica E. Amboss, Attorney
Palm Desert, CA
---

Michael has been our CPA for several years. We have an S corp which had not been done correctly in the past which Michael was able to sort out and bring current. Michael does out personal taxes as well. We have referred him to other family members who use him and find him the best CPA they have had as we do.

I also refer him to friends who thank me for the referral!!

Michael is always available to answer any questions. He is also honest and ethical which I appreciate. I highly recommend him.

Laura Bueermann
ELJ Management, Inc.
Palm Desert, CA
---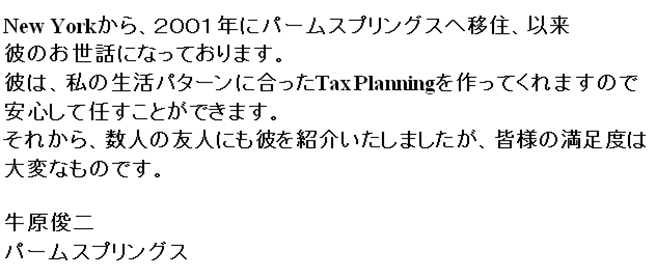 Translation:

I have moved to Palm Springs from New York in 2001. Since then, he is taking care of my tax returns.

I am completely satisfied with his services, since he makes my personalized tax planning. I have introduced several friends of mine. Without exceptions, all of them are enjoying his services.

Shunji Ushihara
Palm Springs, CA
---

We are French citizens and are not familiar with your American tax laws. We have investments in the United States. We live in France but are sometimes in the United States. We originally met with Michael in 2004 but did not engage him then. We chose a bigger Palm Springs firm who told us things that sounded better. We wish we had hired Michael first.

We had tax problems and received notices on these in 2007. We owed many penalties and interest. The other accountant wanted to charge us so much to fix the problems we had because of their advice. We talked to Michael again and hired him. He helped us fix our tax problems. We are too busy to have these kind of problems.

Jerome Sargenton and Maurice Gombault
Versailles, France
---

We met Mike at a DBA function in 2001 and were impressed with his involvement in the community. We own a niche boutique hotel in Palm Springs. At the time, we were using another accountant. After a few years, with fees almost doubling, we called Mike in 2004. It was the best move we could have made. He quickly got acquainted with our business, and gave us suggestions on how to save money. He went back to prior years, made adjustments which had a positive impact on the current tax years. He is up front, a great communicator we definitely recommend him to other business owners, large or small.

Paul Pressman
Bruce Wishnefsky
Owners: El Mirasol Villas - Palm Springs